Learn Russian Fast With Russian Native Tutors | Learn Russian Language Online
Russian language (русский язык) is rich in meaning and beauty. Ranked as the 8th most spoken language in the world and one of the 6 official languages of the United Nations, Russian is growing to be a must-learn for many individuals. Whether you are travelling to Russia, wanting to communicate with a Russian friend, learn a second language, or simply a lover of languages, the dilemma always lies in how to learn Russian fast and easily. Lonet.Academy provides you the opportunity to learn Russian online with the Russian tutors by Skype.
Do not be overwhelmed by the notion that Russian grammar is difficult, or that many words and letters are unlike all-familiar English. Like any foreign language, there are tips and tricks that will help you absorb all important points. Professional and experienced Russian tutors know how to learn Russian fast and in an efficient way. They know the tricks and methods of acquiring Russian and will help you to learn Russian faster and easier than if you learned Russian just by yourself.
Learning Russian language is an exciting challenge and it needs professional guidance. The reward you get is that you will be able to speak and understand one of the most beautiful and rich languages in the world!
Join Lonet Academy today and learn Russian with native tutors on-line: by Skype or in a webinar classroom from any place in the world!
Sign up for free consultation.
Russian Language Tutors Online
price from €15

I teach :
Teaches: Latvian , Russian , Swedish
Speaks: English , French , Latvian , Russian , Swedish
Native language: Latvian
Main attention - to the practical use and communication. However, the real improvement is only possible by grammatically correct speech and writing. These two approaches must be in balance. Galvenais uzsvars - uz valodas praktisko pielietojamību un dialogu. Tomēr patiesa izaugsme iespējama tikai ar gramatiski pareizu runas un rakstības pārvaldīšanu. Tādēļ svarīgas ir abas pieejas, tām jābūt līdzsvarā.
price from €10

I teach :
Native language:
I am a certified teacher, my academic qualification is teacher of Russian, Literature and English language. I have also completed a course "Methods of Teaching Russian as a Foreign Language" at Moscow State University and has obtained the title of "Teacher of Russian as a Foreign Language". I teach English and Russian to teenagers and adults.
price from €4

I teach :
Teaches: Russian
Native language: Russian
Hello! My name is Irina. I'm Russian. Currently, I'm living in Portugal, where it's not always sunny. I'd be happy to help you learn my native language. I offer Conversational Russian; Russian for beginners; Intensive Russian; General Russian. Let's talk!
price from €14

I teach :
Teaches: Russian
Speaks: English , French , Russian
Native language: Russian
🇷🇺 Learn Russian with a Personal Touch! Are you looking to master Russian? Look no further! I am Julia from Saint Petersburg, and I'll happily bring your Russian to the next level. I offer tailored lessons: the program is based on your goals and needs, and I always adjust it to your personal tempo, your native language, your lifestyle and interests, and your favorite mistakes 😁 My students say that my lessons are fun and helpful, they note my ability to explain and the comfort of our lessons
price from €8

I teach :
Speaks: English , German , Greek , Russian
Native language: Russian
Hello! My name is Anastasia and I would be happy to share with you my passion about the languages. I really value individual approach to each of my students and create my teaching program according to your learning goals. I am glad to support you on your way of learning a new language, either it is German or Russian. I believe, that we live a new life for every new language we speak. So let's do the first step to your new life together!
Teaches: Russian
Native language:
Hello, my friend ! My name is Marina Litvinova and in this video I welcome you to my russian classes via Zoom or Skype at Lonet. Academy. I am a certified tutor of Russian language and can help you to improve your Russian or start it from zero. I am sure, in a couple months of studies you will not recognize yourself in Russian! Learn Russian with me : https://lonet.academy/language-teachers/russian-language-tutors/1212
Teaches: Russian
Speaks: Russian , Ukrainian
Native language:
I have a Master's degree in International economy. I have 2 years of experience as an English teacher in China. I've been teaching Russian online for 1 year. My biggest strength is attention to the details. I teach Russian from teenagers to adults.
Teaches: Russian
Native language:
I am certified Russian as second language teacher and Russian native speaker, I work at international school (CIS international school) and I have been tutoring for 4 years. I work with students of any age and with any level of the language. I always look for an individual approach and, I think, I am good at clear and easy explanation of grammar. Besides, I always try to do my lessons interesting using games, songs, sitcoms etc.
8 Basic Steps How To Start Learning Russian And How Learn Russian Fast And Easily
Step 1 To Learn Russian Language: Know the Russian Alphabet and Its sounds
To start learning Russian well and to learn Russian fast, it is important to know its foundations. Learning the alphabet in Russian Cyrillic script. Do not worry about how different they may appear; it is actually quite similar to the English alphabet in many ways. Once you get acquainted, you will notice the parallels in A, B, D, K, L, M, O and T. Familiarisation with the Russian alphabet will help greatly later in pronunciation and enunciation of the words.
Russian tutors online at Lonet.Academy offer the tailor-made packages of Russian classes by Skype for any level and learner. Even if you are just the beginner of your journey into Russian language! Our native Russian tutors will create for you a course of basics in Russian.
Read more: Learn Russian to stand out and thrive.
Learn Russian online. As a Russian language beginner you will start with:
Russian alphabet (Cyrillic letters);
Sounds of Russian vowels and consonants (basic phonetics of Russian);
Basic conversational phrases in Russian (greetings, introduction, asking basic questions);
How to read in Russian;
How to write in Russian;
And other necessary skills for Russian language beginners.
Step 2 To Learn Russian Fast: Learn Basic Conversational Words and Phrases
The best introduction to learning any foreign language is knowing simple, everyday words and phrases. In order to learn Russian fast it is vital to interact with individuals who speak Russian. If you want to learn Russian fast, stay motivated and interact and communicate with native speakers. It is also a good icebreaker when travelling.
You can learn Russian online with the professional native Russian language tutors.  Usually you start learning just the basic words in Russian such as:
Привет, pronounced "Privyet" (Hello),
Спасибо, pronounced as "Spaseeba" (Thank you),
Меня зовут, "menya zavut" (My name is),
Как дела?, "kak dila" (How are you doing?), etc.
Step 3 To Learn Russian fast: Russian Language Children's Books or Shows
Imagine yourself at nursery level, only now, it is in the Russian language. Don't feel absurd because this is one of the best methods to build up your comprehension and help in coining sentences with correct grammar; from the basics. There are many materials available online such as storybooks, audiobooks, children's rhymes and videos which you can follow. If starting with completely Russian literature is too much, you can start with adaptations of your favorite stories. You can also listen to Russian jokes and songs which can speed up your comprehension. This will enable you to correlate meanings. Subtitled videos also help a lot with learning Russian fast and easy.
Step 4 to Learn Russian Language: Know Russian Words with Similar Meanings and Sounds
Languages usually borrow terms from each other. Once you find these words, you will be able to add a considerable amount of terms into your vocabulary. Knowing these words will also help greatly towards remembering the Russian Cyrillic alphabet. Some of these words are:
Такси (taxi)
Телефон (telephone)
Компьютер (computer)
Аэропорт (airport)
You will learn that they sound similar to the English words and the spelling employs the letters that sound similar as well.
Step 5 to Learn Russian Fast: Practice, Practice, and More Practice!
There is no denying that at the end of all the theory, learning the letters, pronunciation, words, grammar, and syntax, the need to practice is the key to perfecting your grasp of the Russian language.
The best way to learn Russian online is to engage in constant conversation with Russian native tutors. Constant practice will boost your confidence in speaking the language until you reach a level of comfort that you become adept at the basics. When looking for a foreign language sparring partner, you must consider competency, availability, and ease of relating to the person. They must be open to your questions about the Russian language and be capable of addressing them. There must be a communicative approach employed in order to have effective assimilation of the language.
However, many who wish to learn a language may not find a native speaker available or an individual qualified enough to guide you. Many try to learn Russian online or hire Russian tutors via online tutor schools. This is a great method but will entail a lot of hit and miss, trials and costs to the language newbie.
Read more: How to learn a language quickly.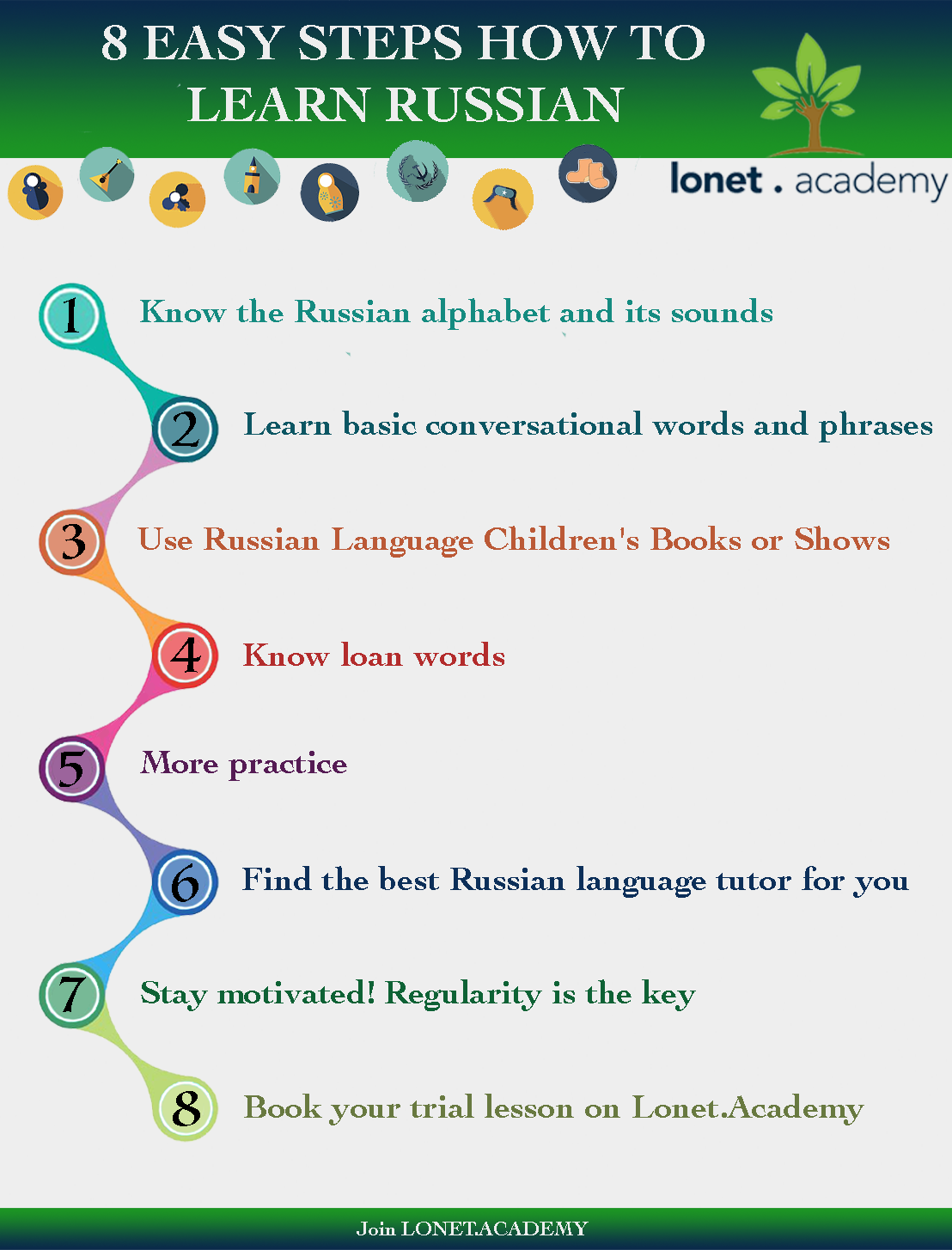 Step 6 to Learn Russian Fast:  Find The Best Russian Tutor For You!
The question is: where to find the best Russian tutors that are accordingly educated and will do the best job when it comes to teaching Russian as a foreign language?
At Lonet.Academy, you will find the perfect solution to learning the Russian language fast, easily and fun. You will be able to book the best Russian language tutors who are experienced, professional and passionate to teach Russian. Lonet.Academy eliminates losing valuable time, money and effort in looking for the perfect language tutor.
Lonet.Academy Russian tutors by Skype will adjust to your learning level providing individual approach during one-on-one Russian classes online.
If you learn Russian online, You can have flexible learning schedule and move at your own pace. Converse with your Russian tutor as often as you want, at your own convenience and progress at your comfortable pace. Lonet.Academy is the perfect place to find and choose the best Russian Language Tutor Online who will help you to learn Russian fast and easily.
Choice Of Russian Tutors Online For Your Individual Needs | Russian language lessons by Skype
All Russian language tutors at Lonet.Academy are experienced teachers. They have practice in teaching Russian to the learners of different levels with individual specific aims.
Such as:
Classes of Russian for the beginners;
Elementary Russian course;
Course of Russian for travelling;
Online classes of Russian for business;
Academic Russian for specific needs;
Conversational Russian (communication with Russian native speakers);
Tailor-made targeted program;
Business correspondence and terminology in Russian;
course of Business Russian and business negotiations in Russian language;
writing business proposals for Russian partners and customers;
Your professional profile or company's presentation in Russian language;
CV, motivations letters and job applications in Russian, etc.
Russian functional language for business trips and travelling in Russia.
Russian online lessons and classes are individually tailored according to your expectations, needs, motivation and goals.
Here is our article about why you should learn a language with a tutor. Take advantage of Russian lessons online! The best professional Russian Tutors Online by Skype today!
Step 7 to Learn Russian Fast: Stay Motivated And Persistent. Regularity Is The Key!
Immerse yourself into Russian! Practice daily your Russian language skills with a Russian native tutor on Lonet.Academy. Learn Russian language fast and easy to stand out and thrive.
It is known that the most effective way to learn a language fast is to dedicate a specific amount of time on a daily basis. Be persistent and use a targeted program. Our Russian Tutors Online will help you to work out the tailor made language learning program.
They will help you to learn Russian language in your individual pace.
Regularity is important! Take online classes with the native Russian language tutors. Dedicate a specific amount of time for your Russian language course on a daily basis;
Immerse yourself into the language! Practice Russian language with the native Russian tutors at Lonet.Academy.  Find a native speaker to interact with. Watch authentic videos and media in Russian language;
Read! Ask your Russian language online teacher to advise you a book or a magazine to read. Develop your reading skills in Russian and discuss the topics with your Russian language tutor by Skype;
Listen to Russian music. As you probably know, one of the easiest and exciting ways to learn a foreign language is to listen to the music in it. Learn the lyrics of the songs you like. Your private online tutor can give you some useful tips on the popular Russian songs to listen to.
Step 8: Start Immediately. Book Your Trial Lesson With Russian Tutor By Skype Right Now.
Learn Russian with the best Russian language Tutors and Teachers by Skype. Start your classes of Russian right now:
Choose Russian language to learn;
Find the list of the Russian tutors by Skype and teachers at Lonet.Academy;
Read the descriptions of the tutors;
Check the reviews and rating from the other students and learners;
Choose the most appropriate Russian teacher for you and book your trial lesson;
Enjoy your Russian classes and lessons with the chosen Russian tutor in a comfortable place, day and time for you!
Don't leave for tomorrow the thing which you can do today! Improve your Russian language skills with the native Russian tutors online and practice Russian with Russian native teachers from Russian speaking countries, including tutor from Russia, Republic of Belarus, Ukraine and Baltic States.
Sign up for free consultation.