How to Learn Spanish Fast | Spanish Tutors Online | Private Spanish language classes
Do you want to learn Spanish fast, easily and with the best native Spanish tutors online? Below you can find the most appropriate Spanish Tutor for you and learn Spanish language fast without leaving you comfort zone. Here you can choose amongst:
Spanish language tutors with professional Spanish teaching degrees and certificates. Spanish Tutors by Skype with the experience in teaching Spanish as a foreign language to learners from all over the world;
Latin American native speakers. Spanish tutors online from Venezuela, Peru, Argentina, Mexico and other Latin and South American countries;
Spanish native tutors. Professional teachers of Spanish from different areas of Spain.
Learning Spanish language is an exciting process, but mastering it opens a lot of doors. It is better to learn Spanish with a professional guidance. The reward you get is that you will be able to speak and understand one of the most beautiful and spread languages in the world!
Join Lonet Academy and learn Castellano with native Spanish tutors by Skype or in a webinar room from any place in the world!
Register at Lonet.Academy and take online Spanish classes with the best Castellano tutors by Skype.
Sign up for free consultation in case if you have questions which tutor is better for you and how to learn Spanish online at Lonet.Academy
Buy a gift card for your friends, family members or colleagues and give them the opportunity to learn a language with individual language tutors online.
Spanish Language Tutors by Skype
price from €3
€3 for trial lesson
Teaches: English , Latvian , Spanish
Speaks: English , Latvian , Spanish
I am a teacher in an Academy of English. I teach kids and teenagers from age 4 to 15 , as well as I give private classes to adults. Currently I am finishing my degree at the University of Barcelona where I study Modern Languages and Literature specializing in English and Spanish languages and at the age of 20 I obtained an IB diploma studying in Denmark.
price from €8
€3 for trial lesson
Teaches: English , Italian , Spanish
Speaks: English , Italian , Spanish
My three years experience as a Language tutor consists mostly in teaching kids and teenagers between the age of 6-20 and few adults. Levels: Italian, English and Spanish > A1-B2 My certifications are: DELE-Diploma de Español como Lengua extranjera (Level B2) Trinity College London diploma (Level 9 - B2) EF SET Certificate (Level C2). One of my major professional achievement is helping a kid with ADHD progressing in the English and French language, working alongside with his therapist.
price from €6
€6 for trial lesson
Teaches: Catalan; Valencian, English , French , Spanish
Speaks: Catalan; Valencian, English , French , Spanish
I studied the degree of translation and interpreting (English - Specialised on Law and Economics). After that, I took the CAP (Certificat d'Aptitud Pedagògica) to become a teacher. I have been working as a secondary teacher since 2013 (ESO, batxillerat and Vocational training). I have experience in teaching adults as well (official courses for SOC) I have also been an Erasmus coordinator for 6 years and managed two KA2+ Erasmus projects. I am also a teacher at IOC, and I like working online.
price from €6
€6 for trial lesson
Teaches: Spanish
Speaks: English , Portuguese , Spanish
I studied education and then I studied an Expert in teach spanish as second language: teaching and learning and a Master in Applied Languages. I have been teaching adults and kids. I have worked as a Spanish teacher in Romania, Turkey and in Spain too. In academies, private schools and intensive courses at all levels. I am also a DELE B1-B2 examiner, accredited by the cervantes institute.
price from €10
€10 for trial lesson
Teaches: Latvian , Spanish
Speaks: English , Latvian , Russian , Spanish
I'm Spanish as a foreign language teacher in a high school, and also give private classes in both languages, for more then 10 years. I constantly develop my teacher's skills participating in international courses. The age groups I feel most comfortable with, are the youngsters and adults. My professional education consists on studies of tourism management, pedagogy and Master's degree in Spanish philology.
price from €3
€3 for trial lesson
Teaches: Spanish
Speaks: English , Latvian , Russian , Spanish
Currently I have started my degree, I am studying Child Education, in the future will study psychology. Language learning always was my passion. I give private online classes for children and adults. My professional education consists on studies of pedagogy and child psychology. Always try to adapt my lessons to cater for the different learning styles of students. Я провожу частные онлайн-уроки для детей и взрослых. Всегда стараюсь адаптировать мои уроки к разным стилям обучения учеников.
price from €5
€3 for trial lesson
Teaches: French , Spanish
Speaks: English , French , Spanish
I am a highly motivated foreign languages teacher specialized on spanish and french teaching. I would like to help you improving your language skills. I offer you my background formation and over 12 years of great experiences working with international students of all levels and ages.
price from €23
€23 for trial lesson
Teaches: Chinese , French , Spanish
Speaks: Chinese , English , French , Greek , Spanish
I am a certified examiner for the DELE diplomas of the Cervantes Institute in the Spanish language. I have been teaching for 15 years in Greek Foreign Language Institutes and institutions, such as the Athens School of Immigrants and the Doctors without Borders. I have also accomplished the Superior Course of Spanish Language and Culture in the University of Salamanca, in Spain and the Intensive Course of Chinese Language and Culture in Beijing Language and Culture University, in China.
price from €3
€3 for trial lesson
Teaches: Spanish
Speaks: English , Spanish
I have been teaching Spanish for so long. So I decided study Pedagogy, because i badly needed to complement it to my mother tongue for teaching it more comfortably. As a result of that, I have had the opportunity to teach people from USA, Canada, United Kingdom, France, Brazil, Germany, Italy, Finland, Syria, Iran and Russia.
price from €8
€8 for trial lesson
Teaches: Spanish
Speaks: English , Portuguese , Spanish
I'm qualified Spanish Teacher with passion, I'm Certified Spanish teacher as a Foreign Language ELE for the University of Madrid with Bachelor Degree in Education, I'm Official Examiner DELE, levels A1-A2, B1-B2. I have The Postgraduate Certificate in Education (PGCE). I have over 8 years of teaching experience in the public sector I have worked for the Ministery of Education, particularly in the Directorate Lifelong Learning as Lecturer at the National University.
Learn Spanish online with the best Spanish Tutors
Our choice of experienced Spanish language tutors from all over the world provides you with the possibility to find the best Spanish language tutor for you. You can select and choose according to:
your time zone,
personal motivation,
other preferences you might have (practising Spanish language for some specific events in your life),
language preference (for example, if you are a Latvian speaker and you would like to find a Spanish tutor who speaks and understands Latvian)
price expectation,
individual schedule and pace of learning,
specific needs (Spanish language for work in a specific industry),
and others (Spanish language for studies), ...
Spanish language is the world's second most spoken native language and the fourth most spoken language in the world. So, no surprise that Spanish is one of the most desirable foreign languages to learn by many. How to learn Spanish fast and easily? - With your personal Spanish language tutor at Lonet.Academy by Skype from any place in the world.
Here are 4 Basic Steps To Learn Spanish Language Fast
Often known also as Castellano or Castillian, this is the native tongue of almost 500 million people in Spain and South America. Spanish is also a global language. In fact, it is one of the six languages of the United Nations. Whether you are planning to travel to a Spanish speaking region or you want to follow Spanish telenovelas. Whether you love Spanish songs or simply want to acquire a beautiful second language, the question is how to learn Spanish fast? Here are some tips that will help you accelerate your learning curve to being as close to a native Español as possible.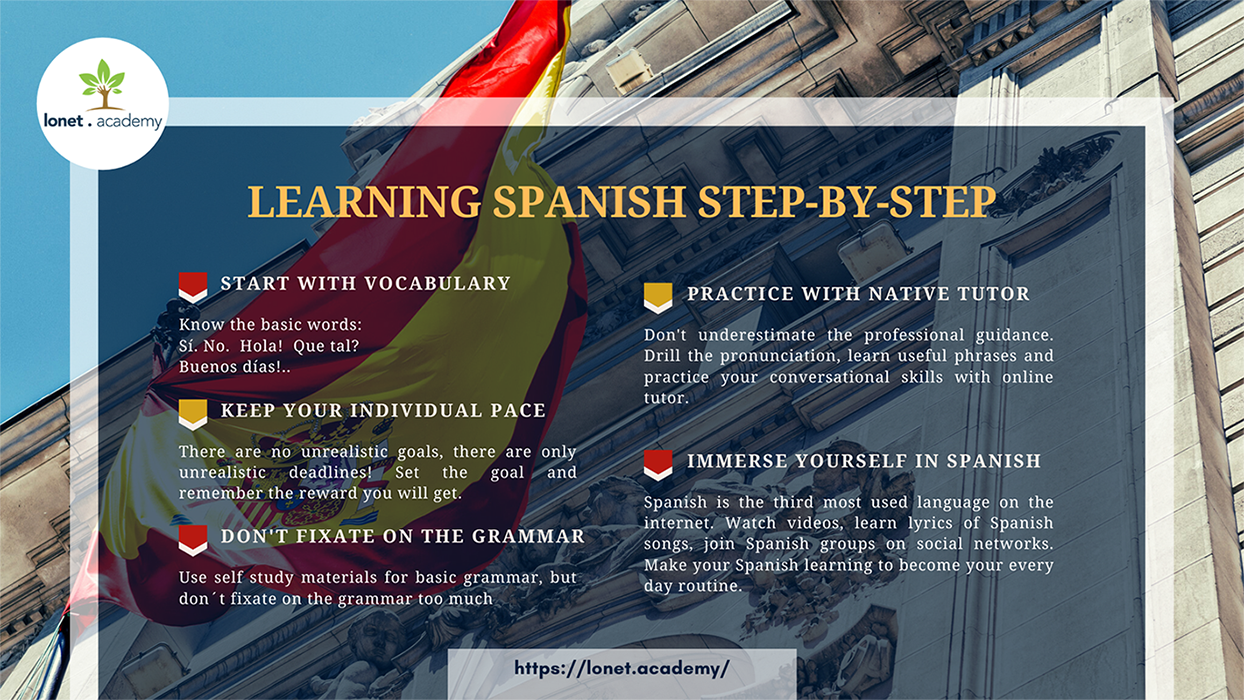 1. Develop Your Spanish Vocabulary Bank | Spanish tutors online
Did you know that just over 1,000 Spanish words are used most frequently to account for roughly 88% of spoken Spanish? Thus said, it is imperative to build your vocabulary in Spanish and know the basic words needed for day-to-day conversation. As Spanish has absorbed a great deal of vocabulary from other languages, you will most likely find words that are very similar to familiar terminologies used across the various lingua franca. Spanish has imported the vocabulary from the defunct Latin to Arabic and a host of European tongues and the Romance language.
A nice and practical suggestion is to absorb Spanish in your daily life, identifying objects with their Spanish equivalent. You will find cognates in English such as "actor", "balance", "carbon" and words like "explosion", "radio" and "religion". These kind of words are really very similar to their English counterparts.
But note that when these words are spoken, they will sound different in the Spanish language. Which brings us to our next important tip on how to learn Spanish fast:
2. Master Pronunciation of Spanish Words with Spanish tutors online
In learning Spanish as a foreign language, this is a very important point we must remember. There is a marked difference between the pronunciation of Spanish words in comparison to English. Although they might appear the same when spelled.
For instance, there are no long or short vowel sounds, only ah, eh, ee, oh, oo for the vowels A, E, I, O, U. Despite this, it is not a rule that vowels are abruptly read. Actual enunciation may entail it to be short or drawn out in a conversation. You can learn word for word pronunciation on many online Spanish flashcard apps.
Also, one must take into account that the pronunciation differs from one region to another, depending on the regional accent. Thus, it is really worth to distinguish which accent of Spanish you would like to learn in order to choose the right audio materials. The professional and individual Spanish online will help you to choose the proper audio learning materials. The tutor will explain to you the differences between the pronunciation in distinct areas of Spanish speaking world.
3. Self-study and Learn the Sentences BUT DO NOT Fixate on the Grammar
Without underestimating the importance of grammar in Spanish, try to learn the most common Spanish sentences used in daily living. Although Spanish grammar is not similar to the English language grammar, there is no pressure for a learner to be perfect in grammar. Nevertheless, the basics are important, of course. Such as:
Try to learn as many of these as you can in order to familiarise yourself more to the nuances of the language. At the same time don't be afraid to make mistakes. Grammar must not be an obstacle to start the communication.
4. Expose Yourself to Spanish Media | Spanish language on TV and social networks
For this step, you need not look further than the internet. Spanish is the third most used language on the internet. So, there is no shortage of shows, music videos, children's shows, news and other forms of entertainment that you can follow.
This will train your ear to catch the language spoken at a normal or even faster pace plus aid you to coin phrases and sentences. It is also a simpler way to be acquainted with colloquial terms and slang unique to each Spanish speaking region.
Practice Enunciating Spanish Phrases and Sentences with Spanish tutors online
In an authentic conversation remember that Spanish speaking people speak really fast. Thus a word in Spanish may sound differently when in a phrase or sentence and may be audibly distinct in fast Spanish conversation. Watching Spanish media subtitled in Spanish will enable you to catch that. Furthermore while reading and hearing the sounds simultaneously its easier for you to identify familiar vocabulary and hear how it is pronounced in a rapid speech.
Learn Spanish faster: Converse with Native Spanish Speakers as Often as You Can!
The goal of every language learner is speaking as naturally as the native speaker. This can be achieved through practice. If having Spanish native tutors is not accessible to you, there are platforms to learn Spanish online which you can enlist to help you master the language.
However, it is very important to find a reliable and certified site in order not to waste valuable time, money and effort. It is crucial that a learner knows where to find Spanish tutors that will effectively improve speaking and listening ability.
Learn Spanish Language Fast With The Best Spanish Tutors at Lonet.Academy
To eliminate the guessing and save time, money and effort, choose the best solution by enlisting the best Spanish tutors at Lonet.Academy. Spanish tutors online with native competence will be matched to your learning level and schedule.
You can choose a tutor who understands your native language as well.
Meritxell Tebar Roca - professional Spanish language tutor who also speaks English, French and Catalan.
Beatriz Carrillo - native Spanish tutor online, who speaks also French and English. Watch the introduction video here.
Itzel Nájera - speaks also English and Swedish.
As a result you will improve your conversational skills in Spanish fast and easily. Besides, you will learn many interesting facts and details about Spanish culture, cuisine, music, art and history. Speaking practise with native Spanish tutors is certainly the best way to empower your knowledge of the great Spanish speaking community and culture!
Learn Spanish fast in order to work with the Spanish speaking markets.
The best Spanish tutors on Lonet.Academy will help you with the specific individual needs, such as:
Lessons of business correspondence in Spanish;
Language online course of Business Spanish;
Classes of business and commerce terminology in Spanish;
writing business proposals and offers in Spanish language;
professional profile or company's presentation;
CV, motivations letters for Spanish job market, etc;
Spanish for business trips and travelling.
In this individualised platform, your learning experience is customised via one-on-one language instruction with Spanish tutors via Skype. You can move at your own pace and control the schedule as well as the learning process. There are instructors for every level of learning, so whether you are a beginner or someone wanting to level up on your language, Lonet.Academy is your best choice on how to learn Spanish fast.
_______________________________________________________
Read Lonet.Academy blog how to learn languages. Related articles: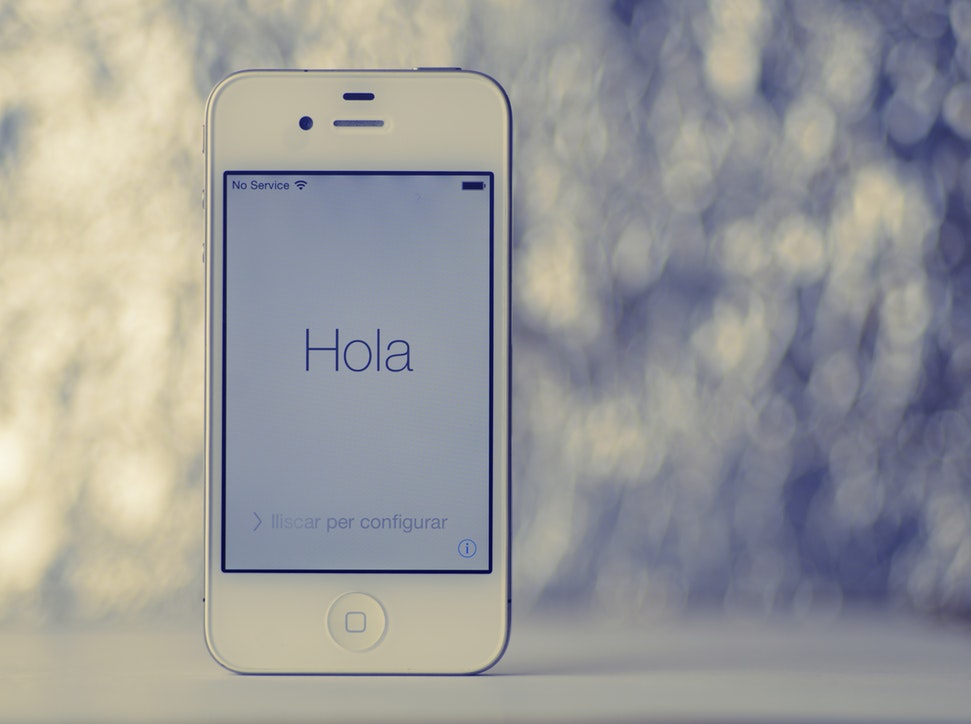 Learn Spanish to get good job in international company!
Formula from Lonet.Academy on how to learn a language quickly.
Learn a language and see what happens in your life.