Dutch Tutors Online | Dutch Classes By Skype
Did you know that Dutch is a close relative of fellow West Germanic languages English and German? The Dutch language is considered a first language to some 24 million people, with another 5 million individuals all over the globe taking it up as a second language. Aside from being the official language of the Netherlands, Dutch is also hailed as one of Belgium's three official languages. Not surprising that there are more people every year looking for professional Dutch tutors online to learn Dutch fast and easily. At Lonet.Academy the tutors offer to learn Dutch by Skype (one-on-one Dutch classes by Skype) or in a virtual class-room on webinar platforms.
If you learn the language, not only will your travel experience in the Low Lands countries be enhanced, but you can also have more fun in the Caribbean sun as it is also spoken in the beautiful countries of Aruba, Curacao and Sint Maarten who are constituent countries of the kingdom of Netherlands. Modern Dutch speakers are sprinkled all over the globe and even Namibia and South Africa's Afrikaans has evolved from Cape Dutch dialects. The evolution of Nederlands as a language is supervised by the Dutch Language Union
You might sometimes encounter Standard Dutch being referred to as Flemish Vlaams, don't fret, that is what the language is called in Belgium. The history, culture and geographical applicability of Dutch makes it an appealing language to learn. Another nice thing about learning Standard Dutch (Standaardnederlands or Algemeen Nederlands) is that it is easy to learn because of its proximity to English and German, enabling students to learn Dutch fast and easy.
Sign up for free consultation.
Dutch Language Tutors by Skype
Teaches: Dutch
Speaks: Dutch , English , Spanish
Seasoned and qualified Dutch teacher with over 30 years of experience in teaching Dutch to children and adults.
Teaches: Dutch , Greek
Speaks: Dutch , English , German , Greek
I studied Electrotechnical Engineering in Amsterdam, from which I graduated in 1994. Since then I worked in IT for 16 years, until 2010, when I changed to language teaching. My specialisations are: High level business and conversational Dutch and preparing students for aal the official Dutch exams. I hold C2 certificates for English and Greek, Cambridge Proficiency and the Certificate of Attainment in Modern Greek of the Hellenic American Union.
Teaches: Dutch
Speaks: Dutch , English , German
I started giving both private and group lessons online and at language schools about 3 years ago. In the meantime, I managed to teach students from A1 to C1 level, from different backgrounds and with different learning goals, from the age of 14 to 70+. I find it important that people feel comfortable and confident when they speak a foreign language, because only then you will be able to make progress and build confidence when talking in Dutch.
Learn Dutch Online With Dutch Tutors By Skype | Dutch Language
While the best way to master Dutch is to enlist Dutch tutors online, some preparation and research will help hasten your Dutch-speaking learning curve. Here are some useful tips:
Self-study is not so difficult nowadays.
Find and learn English-Dutch cognates to boost your Dutch vocabulary fast.
Learn how to coin words: some basic phrases. Learn sentences, not just words ...
Use Danish multimedia sources;
Practise Dutch with a native speaker or professional Dutch tutor online.
Do some self-study of Dutch Language | Learn Dutch online
After reading up about the colorful history of the language and the cultures that use it as lingua franca, you can begin your official foray into learning by studying the Dutch alphabet and the corresponding pronunciation. Some sounds are distinctly different in pronunciation than their English counterparts. Note that some letters – like k, p and t are aspirated differently in Dutch. However, letters like b, d, f, h, l, m, n and s are the same. You will also notice that Dutch has guttural sounds for ch, g, j and sch while a roll in the enunciation of the letter r.
Learn the English/German cognates and boost your Dutch language vocabulary | Apply for a professional help to Dutch Tutors Online
These language cousins have a host of similar sounding words. If you know how to speak German as well as English, it would be a breeze to build your Dutch word bank. Here are some cognates in English-Dutch-German.
English Dutch German
Wife Wijf Weib
Day Dag Tag
Earth Aarde Erde
Mouth Mond Mund
Six Zes Sechs
Seven Zeven Sieben
These similar sounds extend to phrases as well such as :
English Dutch German
I am Ik Ben Ich Bin
I have eaten Ik heb gegeten Ich habe gegessen
You will encounter a multitude of such words and phrases as you build your Dutch vocabulary. Mnemonics and word association will be very helpful in remembering the Dutch equivalents. You can add to that word list numbers, days of the week and months of the year.
Know basic phrases and sentences and how to coin words (grammar!) | Take Dutch classes by Skype
Basic knowledge of phrases used in everyday Dutch conversation will facilitate understanding and promote ease of learning as you progress in mastering the language. Learning Dutch as a foreign language may not be as difficult as other languages such as French but ample preparation with help you learn Dutch fast and easily. Some simple daily phrases are:
Good morning – Goedemorgen
How are you? – Hoe maakt U het?
Please – Alstublieft
Thank You – Dank je wel / Bedankt
Knowing these will facilitate comprehension and aid you coin your ow sentences which brings us to the next useful language tip.
Surround yourself with Dutch multimedia!
From Dutch children's language books to music and subtitled movies, exposing yourself constantly to Dutch multimedia will practice your ear to catch Dutch sounds.  Familiarization of the auditory nuances of the language will help you to properly enunciate the words. You can even watch world news in Dutch!
Dutch tutors online, who teach Dutch language by Skype will recommend you the best Dutch multimedia sources for you.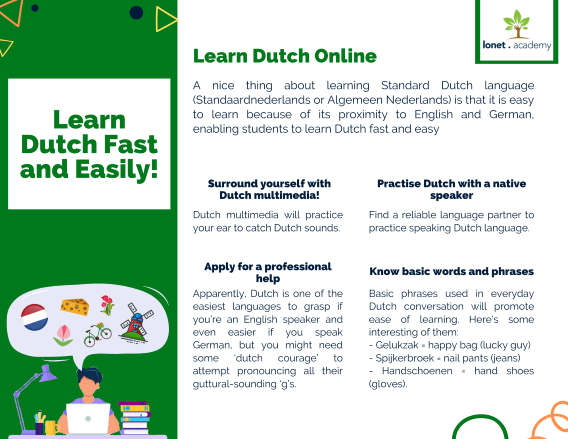 Find a reliable language partner to practice speaking Dutch language. | Practice With Dutch Tutors Online
Having adequately done self-preparation, it is now time to develop confidence in speaking Dutch. If you have access to a natïve Dutch-speaking community or social group, ask to join them by all means. You will find the Dutch very amiable and willing to help someone who is trying to learn their language. However, if this is not available in your locality, you might have to hire Dutch tutors online. This way, you can have either have one-on-one Dutch classes or join language coaching online.
In searching for the best Dutch tutors, you may have to sift through countless online resources, groups, read up on reviews and assess competency and reliability. Lonet.Academy makes that endeavor hassle-free by offering certified Dutch tutors by Skype. With a high trust and satisfaction rating, Lonet.Academy ensures that anyone who wants to learn Dutch fast and easily get the appropriate lesson for their level of learning.
By being able to schedule Dutch tutors online to teach at your available schedule, you can be assured of a realistic and reliable Dutch language learning stream. So whether you are learning Dutch for work, further study or travel, the best Dutch tutors online can be found at Lonet.Academy.
Why it's better to learn a language with a tutor.
Sign up for free consultation.
Are you scared that learning the Dutch language might be out of your league? Do you feel that it is too difficult to be pronounced and learned? Is it too challenging to learn and remember?
How about learning the language with native tutors? You can even pick up their native accent while you learn!
Isn't that wonderful?
At Lonet.Academy our Native Dutch Tutors will have you speaking Dutch in no time. Their Dutch online classes are efficient and fun, well prepared and organised! You can learn Dutch from any point of the world with the Dutch online tutors who are displayed on Lonet.Academy.
Take Dutch Language classes and impress Dutch work associates with your efforts and skills by speaking their language. Let them see how important their business is to you. Enjoy extensive conversations with Native speakers in the beautiful towns of rural Holland.
Our Native Dutch Language Tutors will guide you through the learning process step by step. You will work on reading, writing, speaking and grammar skills enabling you to produce the desirable soft native Dutch accent.
Join lonet.academy. Try your first class today. Book one-to-one Dutch online classes with our Native Dutch tutors.
Personalised Classes With Dutch Tutors
Most of our Dutch tutors are native and all of them are experienced teaching languages. They are professional and efficient. They are considerate and kind. Our Dutch Tutors will take you through the learning process carefully making it a pleasant experience. Dutch Language classes are made easy and fun.
Even if you are a beginner, classes will be modified to meet your needs. Dutch language classes are totally personalised depending on the individual needs of each student.
Our Dutch Language Tutors speak several other languages and if you prefer you can search for a Tutor that also speaks your native language.
If you want to learn Flemmish, you need to look for a Dutch Language Tutor as Flemmish is actually a dialect of the Dutch language.
Easy to book online language classes at Lonet.Academy
You don't need to worry about time differences with your language tutors. You won't need to waste time discussing availability, as Lonet.Academy platform is set up to make booking language classes online easy and efficient. On Lonet.Academy website each language tutor displays their work availability schedule and regularly updates it if necessary. Simply click on an available hour and book a class in 2 minutes! This avoids undesirable time-consuming back-and-forth chat about availability, time-zone adjustments, etc. Booking a class couldn't be easier!
Give it a go right now! Book your first Dutch language class with Dutch tutor by Skype today!
Here, at Lonet.Academy we are convinced that the best way to learn a language effectively is to take individual one-on-one classes with online tutors. In this article we explain why you should learn a language with a tutor.
There are many reasons to learn a new language. Learning a new language changes your life completely. We shared some ideas on what happens in your life when you learn a foreign language.