How To Learn Arabic Fast? Arabic Learning With Arabic Tutors Online
Are you interested to learn al-ʿArabiyyah, one of the most challenging yet extremely rewarding languages? Arabic is spoken by 422 million people across the globe making it number 5 in the rank of most spoken languages.  This Central Semitic language is the language of the Islamic sacred book, the Quran. Aside from being spoken natively by Arab speakers, this lingua franca is learned internationally as the liturgical language of Muslims. It is considered one of the most difficult languages to learn and it is quite difficult to learn Arabic fast. Nevertheless, if you choose the individual approach, then Lonet.Academy is the right place offering the best online Arabic course for Arabic learning.
Aside from its religious significance, Arabic is also one of the 6 official languages of the United Nations, spoken as a national language across 22 countries in the Middle East and Africa. The Arabic language is host to a multitude of literature, music and media which is poetic and unique.  Learning the Arabic language will open your mind to the many cultures that adapt the language as their own. 
A good grasp of Arabic will also open business and work opportunities in these countries where the medium of communication – whether written or oral is Arabic.  Travel in these countries is easier and enjoyable when you have a good command of the language, allowing you to enjoy the unique experiences to be had in these regions of the world.
Many consider Arabic a challenging language to learn.  In order to help you how to learn Arabic fast, you need to decide on certain aspects that will help you quickly learn Arabic according to your purpose.
Join Lonet Academytoday and learn Arabic with native tutors on-line: by Skype or in a webinar classroom from any place in the world! It would be the best online Arabic course for you.
Sign up for free consultation. And find out who would be the best online Arabic tutor for you.
Arabic Language Tutors by Skype
price from €7 to €18
€8 for trial lesson
Teaches: Arabic (Egypt) , Italian
Speaks: Arabic, Arabic (Egypt) , English , Greek , Italian
My name is Samar I am a community tutor on many sites online since 2018 and an Italian instructor in my city Alexandria since 2014 I speak 4 languages Arabic English Italian and Greek I graduated from faculty of arts greek and roman studies in 2013
price from €10 to €16
€10 for trial lesson
Teaches: Arabic, Arabic (Morocco) , Arabic (Qatar) , Arabic (United Arab Emirates)
Speaks: Arabic, Arabic (Algeria) , Arabic (Bahrain) , Arabic (Egypt) , Arabic (Jordan) , Arabic (Kuwait) , Arabic (Morocco) , Arabic (Qatar) , Arabic (United Arab Emirates) , English , English (US) , French
I have experience in teaching Arabic for foreigners from different backgrounds, I mainly taught Level 1 to upper intermediate, I also had students with advanced level who wants to practice conversation and extend their vocabulary, we discuss texts and events in order for them to practice their Arabic and correct their mistakes.
price from €6 to €17
€6 for trial lesson
Teaches: Arabic, Arabic (Egypt) , Arabic (Saudi Arabia)
Speaks: Arabic, Arabic (Egypt) , Arabic (Saudi Arabia) , English , Indonesian
I'm an Arabic language educator of Egyptian Nationality and I have experience in teaching Arabic for 19 years. I enjoy teaching and treasures the experience in dealing and working with different types of students and different levels. .I'm an author of some dictionaries..and helped in writing several books.
price from €11 to €21
€3 for trial lesson
Teaches: Arabic, Arabic (Tunisia) , French
Speaks: Arabic, Arabic (Tunisia) , English , French
Multilingual 😎 I fluently speak and write four 🔢 languages (Tunisian 🇹🇳 , Arabic 🇦🇪, French 🇫🇷, English 🇺🇸 ). I am currently learning my fifth : Mandarin Chinese 中文 ✌️ Math and French tutor for both children and adults in Hong Kong for 2 years 🤓. Currently teaching part-time in Taipei, Taiwan 🇹🇼 Aerospace Engineer by training 🚀. Aviation enthusiast ✈️ and Math lover. I also love reading, hiking 🗺️ and watching 20th century movies 🎥 Arabic is my native language, my first love ❤️
price from €3 to €19
€3 for trial lesson
Teaches: Arabic
Speaks: Arabic, English
I have been teaching Arabic for more than 5 years , I have post graduate degree in Education and Psychology, from Sheffield University UK, I also have a bachelor degree in English language from Al Quds Open University, this has helped me a lot in teaching Arabic for non native speakers. My experience is excellent, I have thought different students, from different ages starting from 4 years , I have different ages males and females I have no problem in dealing with any student
price from €3 to €6
€3 for trial lesson
Teaches: Arabic, Arabic (Egypt) , English
Speaks: Arabic, Arabic (Egypt) , English , English (US)
I'm originally studying computer Engineering but I like teaching as a hobby, so you can expect my enthusiasm about it. I've been selected by 4YOU2 organization to teach English to their student in Brazil. I am okay teaching any age group or any level.
price from €14 to €18
€16 for trial lesson
Teaches: Arabic, Arabic (Egypt) , English
Speaks: Arabic, Arabic (Egypt) , English , English (US) , Spanish
I have 3 years experience working as an English teacher . I have 4 years experience working as a call center agent in Telesales/Telemarketing . I used to sell online advertising products to the American small to mid size business owners . I have also worked as a receptionist in the front office of Sofitel Hurghada hotel for 6 months. I have also worked in network marketing for 8 months. I have also worked as a bodybuilding training captain for two years.
price from €8 to €13
€8 for trial lesson
Teaches: Arabic, Arabic (Egypt)
Speaks: Arabic, Arabic (Egypt) , English , English (US)
I am a professional and experienced Arabic teacher for non-native speakers, graduated from Faculty of Islamic and Arabic Studies of Al-Azhar University in 2003, which made me able to teach Arabic for Native speakers or non-native speakers. I completed my studies until I got on the Pre-master in 2007 and then got a Master's degree in 2010. I am now in the doctoral phase, which qualifys me to teach all levels and I have work experience in teaching Arabic and Arabic and Islamic studies in centres,
price from €6 to €8
€6 for trial lesson
Teaches: Arabic, Arabic (Tunisia) , French
Speaks: Arabic, Arabic (Tunisia) , English , French , German , Italian , Spanish
My background is aerospace engineering with additional certificates in business and corporate finance. I worked in Finance and more recently in restructuring management, a job that requires creativity, soft skills as well as certain technical knowledge. Regarding my teaching experience, I used to help high school students do their homework and prepare for exam within a non-profit organisation that aims to help students in disadvantaged neighhborhood in Toulouse, South France.
price from €6 to €23
€6 for trial lesson
Teaches: Arabic
Speaks: Arabic, English , Japanese
I hold BA degree in natural science. . I have a certificate in teaching Arabic to the speakers of other languages. I have TOT certificate in teaching Arabic.
Know the Type of Arabic You Want to Learn
Before you decide what is the best online Arabic course for you, know what you are looking for. The first step is to know which form or dialect of Arabic you want to learn. As there are many accents and pronunciations that the language is set to, depending on the area of usage and the type of usage.  On a universal level, a beginner studying Arabic would delve into Modern Standard Arabic.  If you are planning to immerse in a certain locality, you might choose colloquial or dialectal Arabic course. However, should you want to delve into the language for religious or literary reasons, you could study formal or eloquent Arabic.  Your selection will affect the inflections and pronunciations that you have to master in order to be an effective communicator in the language.
Don't Skip the Arabic Alphabet | Arabic Learning
The ability to read Arabic is very important in order to have effective pronunciation and ultimately proper Arabic speaking skills.  The Arabic alphabet, which employs an abjad writing system will involve the reader supplying the invisible vowels to the writing.  To properly learn these basics and prepare you for reading words and coining sentences, you can download many mobile applications which will go through each script step-by-step.
Learn Arabic Words and Sentences Through Reading and Speaking | Arabic Learning
Knowing the words visually through reading is not enough when studying the Arabic language.  It is important that your tongue "loosens up" to the different sounds that are necessary to pronounce Arabic words correctly.  Remember, one wrong inflection may completely alter the meaning of a word or sentence.  Another important note is that in Arabic, a single word may have multiple meanings – the difference could be spelled by something as little as an inflection or placement in a sentence.
Listen, Listen and Listen More!
There are many unfamiliar sounds in the Arabic language that may be imperceptible to most second language learners.  Once you know how to read the words, you need to know how to listen to them when used in conversation or formal discourse.  You can easily achieve this by opting to watch Arabic films or videos with subtitles.  Getting used to the sound of the language will greatly increase your listening comprehension and help you learn Arabic faster.
Practice by Yourself and with a Native Speaker
Practicing Arabic words and sentences by yourself is a great way to start so you can remember the words.  But in order to properly say the words, you will need to enlist the services of a native Arabic speaker.  The very slight mistakes that you make can be corrected.  Unlike English where accents may not hinder understanding, Arabic is a completely different learning curve.
There are many partial homonyms that might be misleading and some have similar spelling but multiple meanings depending on pronunciation.  A perfect example would be:
فصول ( fusul ), which could mean
acts of a play,
seasons of a year,
semesters in school,
chapters of a book.
While you can seek a language partner in your area to practice Arabic, there is no substitute for  professional Arabic native tutors. You can enroll in Arabic language classes or try to learn Arabic online.  The best Arabic language tutors can be had online via Lonet.Academy with its stamp of excellence in imparting proper learning and usage of Arabic. As you engage with certified Arabic tutors by Skype, you will have the assurance that your online Arabic tuition is legit and spot-on – all at the convenience of your learning speed and schedule.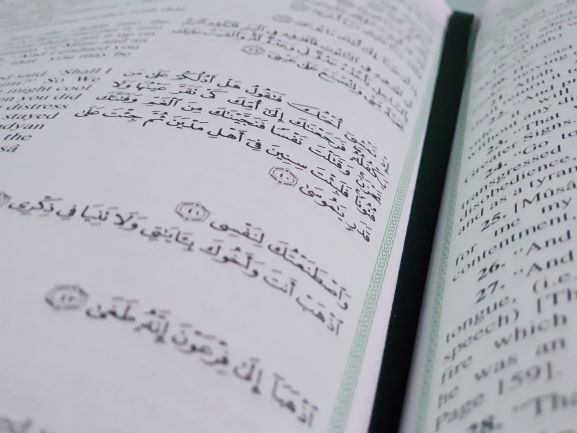 Learn Arabic Language Online | Best Online Arabic Course
To learn Arabic language is a challenge. Nevertheless, our professional Arabic Tutors online on Lonet.Academy will help you to make your learning journey exciting, easy and rewarding! Learning Arabic you are acquiring skills in one of the most beautiful, colourful and rich languages in the world.
Practice and learn Arabic with a native Arabic tutor online on Lonet.Academy and you will notice the progress very soon. The most effective way to learn Arabic alphabet, sounds and to understand Arabic speaking people is to take one-on-one lessons by Skype on Lonet Academy. These kind of individual classes for you will be the best online Arabic course you might get in order to learn Arabic fast.
Join Lonet Academy and learn Arabic with the Tutor by Skype from any place in the world!
Private Arabic Tutor For The Beginners | Best Online Arabic Course
To learn Arabic language is a challenging task. But, even if you are a beginner, the best online Arabic course for you is to take a course of individual Arabic learning.
Although this may be true, our selected Arabic language teachers and tutors by Skype will help you to start your journey into the beautiful world of Arabic language. Our professional Arabic Tutors online make for You the individual syllabus of Arabic language classes based on your needs, motivation and present skills.
It means that if you are only beginning to learn Arabic language, our specialized native Arabic tutors online will offer a course for you of basics in Arabic and you will start with:
Arabic alphabet (writing);
basic phonetics of Arabic sounds;
Basic conversational phrases and words in Arabic (like greetings, for example);
How to read in Arabic;
How to write in Arabic;
And other necessary skills in the course for the beginners of Arabic language.
Arabic Learning | Private Arabic Classes Online
All Arabic language tutors on Lonet.Academy are experienced tutors and have practice in teaching Arabic to the learners of different levels and with individual needs and purposes:
Classes of Arabic language for the beginners;
Elementary classical Arabic course;
Course of Arabic as a foreign language;
Online classes of Arabic for business;
Academic Arabic for educational needs;
Arabic with the specific accent (Tunisian Arabic Tutor, Qatar, Egypt, Online Tutor of Saudi Arabian Arabic Dialect, Lebanon, Jordanian, Arabic Online Tutor from Algeria and others);
Conversational Arabic (short talks with Arabic speakers);
Tailor-made targeted Arabic language classes;
Arabic for reading Quran.
Practice with Arabic Tutor online! Lessons and classes on Lonet.Academy are individually tailored according to your expectations, needs, motivation and goals.
Take advantage of the technology and start your Arabic lessons online with the best selected Arabic Tutors online by Skype today!
Easy to book an online class of Arabic;
flexible to plan your Arabic language private lessons;
set the appropriate for you schedule for learning Arabic with your private Arabic tutor by Skype;
safe to pay for the lessons online through Lonet.Academy platform;
Don't postpone it for tomorrow and start your classes with the best appropriate Arabic Online Tutor for You today! Learn Arabic on Lonet.Academy today.
Improve your Arabic language skills with the native Arabic tutors online. Moreover, practice Arabic in the authentic context with the native Arabic Tutor Online from Arabic speaking countries.
Sign up for free consultation.